Three Minute Review: Traci Brimhall on Jennifer Elise Foerster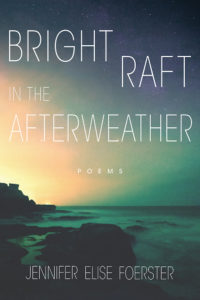 Bright Raft in the Afterweather
University of Arizona Press
2018
If you planted Bright Raft in the Afterweather byJennifer Elise Foerster in the ground, what would grow? The feathers of a bird, and then its bones, and then the sea it flew through before it became a boat the shape of a fish. And that plant would find itself exiled on a treadmill by a window on the corner of 16thand De Haro and blooming two truths about place.
What it feels like to read this book: http://dai.ly/x6eczju   I don't want to write sentences about these stanzas or name the feeling, but the closest is can come is that how surreal the real can be, how present is also and equally the truth of its past and myth of its future.
Is this book papyrus, typewriter, desktop computer or iPad? This book is part archive part hieroglyph part oracular crow. It is at least two things and perhaps two thousand. So much here is present and so much is absence manifest that I hate to pick one, but like the speaker in the book you should "carry a book/to the clearing at the stream's bend.//The wind/spring friend/picks its dark pages."
SELECTED QUOTES
"Once lilacs bloomed/their huge white knuckles/breaking the winter of my room—"
"Our boat is a drowning cloud./We follow the tide's/wet-black eyes./Canting the shoals—/glass worms, shells./I tell you the moon/has floated beneath us."
"Note that it is not the woman's/figure that is kinetic/but the structures above her://fugitive lightning,/skeleton of a Dodo bird."
Traci Brimhall is the author of three books of poetry, most recently Saudade (Copper Canyon, 2017).
Twitter: @Traci724