POEM OF THE WEEK: Natalie Scenters-Zapico
---
Natalie Scenters-Zapico
---
I Didn't Know You Could Buy
something not for sale until
I walked through Coyoacán
& watched gringos ignore
sign after sign: Casa No En Venta.
Still I watched men knock
on door after door stalking
houses they could paint blue,
just like Frida Kahlo's. It's like
the time two thieves knocked me
to my knees for twenty dollars.
I thought the thieves jewelers
as they punched my jaw until
each tooth turned dark amber.
Later, to save my body, I set
my teeth, muddy stones, into a crown
I wore the rest of summer. I know
how to hide bruises so the earth
won't get jealous of lightning
produced by simple friction.
My landscape of curves & edges
that breaks light spectral
is not for sale, but men still knock
on rib after rib, stalking the perfect house—
the perfect shade of blue.
---
---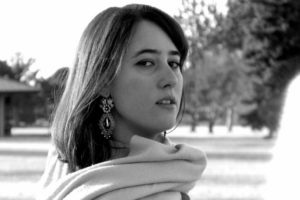 Natalie Scenters-Zapico is the author of Lima :: Limón (Copper Canyon Press, forthcoming 2019) and The Verging Cities (Center for Literary Publishing, 2015). She earned a BA from University of Texas at El Paso and an MFA in poetry from the University of New Mexico. Her poems have appeared or are forthcoming in Tin House, Indiana Review, Pleiades, Poetry magazine, Gulf Coast, and The Believer, among others.