Solastalgia Tour: A Review of Mario Alejandro Ariza's Disposable City
By Chris Drangle
---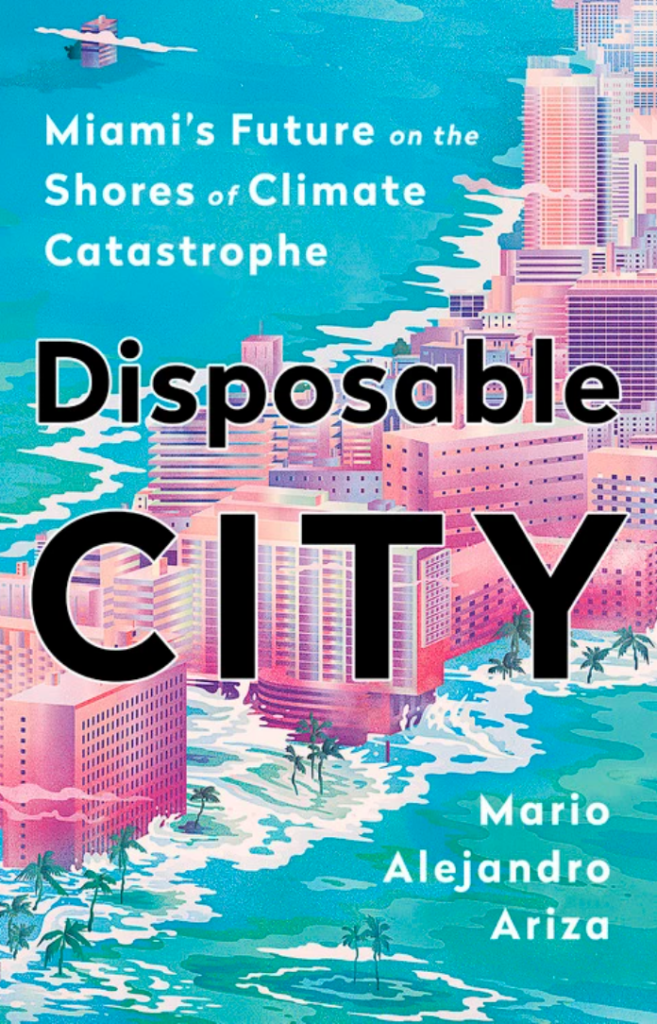 Mario Alejandro Ariza, Disposable City. Bold Type Books, 2020. 230pgs $28.00
In the opening pages of Disposable City, Mario Alejandro Ariza's arresting and evidence-based account of climate change in Miami, a real estate lawyer concedes the proximity of crisis. "Look," the lawyer tells Ariza, "the press, the city, everybody here needs to have a good bedside manner about this issue [. . .] I just hope that this thing is far enough away that we still have at least five or six good business cycles left." By "this thing" he means sea level rise, and the widespread devastation it will likely cause. To clarify this man's position using his own metaphor, imagine a doctor practicing a "good bedside manner" with a terminal patient, while crossing his fingers that said patient survives long enough to be charged for a few more billing periods. If you are already catching the stink of anti-human capitalism, just wait for the chapter about the leaking nuclear plant sandwiched between national parks in a popular hurricane path. Disposable City documents a present in which profit-driven myopia has left Southern Florida profoundly vulnerable to the dangers of climate change, and it advocates for a future in which progressive policies do not merely prevent Miami from becoming a cautionary tale, but turn it into the model of adaptation that every inhabited coast will need, sooner rather than later.
Ariza, a journalist and poet and Dominican immigrant to the United States bases his case in scientific fact. "For too long," he writes in an early passage, "discussions about what humans are doing to the climate system have been framed in terms of belief or disbelief. That's created a situation in which a vast asymmetry of information exists. Cynical actors are taking advantage of that asymmetry." To rehabilitate perspective, Ariza's prose deploys the clarity of reportage. Every assertion is backed up by figures from scientific studies or quotes from interviews with experts in dozens of fields. Thirty-two pages of endnotes await anyone with a desire to check sources. The resulting scope is both focused and rangy, with climate change in South Florida examined through lenses as diverse as property markets, geology, Indigenous history, flood insurance speculation, and invasive species control efforts.
In an appealingly stressful passage involving the latter, Ariza rides along with two members of a nonprofit that helps veterans by taking them into the swamp to capture pythons: "The Swamp Apes (motto: Endure, Evolve, Achieve) are the sort of on-brand Florida weird that perfectly encapsulates the slow-moving environmental catastrophe of the Everglades." The payment rate, we learn, is "$100 for the first four feet of snake, and $25 for each additional foot." A few pungent scenes of reptile wrangling segue into an exegesis of a complex courtroom drama centered on wetlands restoration and the acceptable amount of phosphorous in water, and this type of leap is indicative of the book's omnivorous style. That it feels natural and intuitive on the page is an example of the book's pleasures.
Given the stakes of the subject matter, it would be easy to catastrophize—we are talking about ongoing and upcoming catastrophes, after all—and yet the book's tone never turns dire, never puts readers at risk of capsizing in despair. Ariza is a meticulous guide with a solemn message, but well-timed bursts of dark humor do help the medicine go down. Setting the scene for an investigation of Florida's energy monopolies and the lawmakers who enable them, Ariza begrudgingly admits the phallic nature of the state capitol building, and goes further: "If one continues the unavoidable genital analogy, the Florida Supreme Court, which lies directly east across Duval Street, occupies a position on the body politic not anatomically distinct from an anus."
Other moments of ironic awareness are appropriately drained of mirth. In the book's penultimate chapter Ariza visits the redundantly named Immigration and Customs Enforcement Office of Enforcement and Removal. The site, about a forty-minute drive from South Beach, provides an opportunity to consider the plight of migrant families fleeing political violence, the deprivations of poverty, and—increasingly—climate change. Ariza's description seethes:
"JESUS WAS A REFUGEE!" says the sign of an activist standing under a copse of melaleuca trees just outside the grounds of the ICE facility. It is midmorning. The sun is high. The ICE facility is located in a nondescript suburban office park on the far western edge of Broward County. This office park also houses the corporate headquarters of Carnival Cruise Lines, whose tagline is "CHOOSE FUN." A thin hedge of sickly looking bushes divides the property of the corporation exhorting its customers to opt-in to enjoyment from the drama of the immigrants who have no such choice."
The analyses that follow the wrenching scene at the ICE facility explore the infuriating chasm between those opposing all-caps imperatives, and draw a direct comparison between white supremacist immigration policies and abjectly inadequate climate consciousness. Similar moments throughout the book make a compelling argument for the broader interrelatedness of environmental resilience and social justice. Ariza's sustained attention to the most vulnerable human demographics results in a bitter lack of surprise when it becomes apparent that the "cynical actors" from the introduction do not particularly care who is unaffected and who drowns, so long as business remains profitable and power stays entrenched.
Near the end, Ariza introduces a useful term coined by Australian environmental philosopher Glenn Albrecht; solastalgia describes "a sort of environmentally induced psychic stress" and "the sense of anxiety and powerlessness one feels as the landscape changes around you." I felt solastalgic as I turned the pages of Disposable City. Our species faces the greatest peril we have ever been capable of perceiving, and some of us still decline to perceive it, or simply refuse to act in any way that would disrupt our pitifully short-sighted plans for new luxe condos, more interstate miles, another term in office. But there are many others who recognize the coming changes, who have committed to addressing them and have thereby committed to a vision of humanity that doesn't require us to exploit everyone and everything in sight. Those people make up the majority of the voices in this book, and their courage prevents the solastalgia from tipping into hopelessness.
Strangely, the anecdote that gave me the greatest sense of hope has almost nothing to do with tangible climate resilience efforts. The solastalgia section also details the process of a collaborative art project by Laurencia Strauss and Lisa Bulawsky, which begins with a screening of two "pretty depressing" climate change films and continues with the artists asking viewers to write or doodle about their feelings. The final part of the project "involves taking versions of the crowd-generated designs down to the ocean, donning a scuba suit, and showing them to schools of fish." Ariza points out that this is an absurd response, and Strauss laughs, and I laughed too, with amusement and relief and something that felt weirdly like piety, or maybe just gratitude—gratitude for an image of humans as goofy, imaginative, benign creatures interested in coexistence, not entirely opposed to harmony.
---
Chris Drangle is a writer from Arkansas. His fiction has been recognized with a Pushcart Prize, a Wallace Stegner Fellowship, and a Jentel Arts Residency. Before earning an MFA at Cornell University, he worked as a car washer, a radio DJ, a legal assistant, a copywriter, and the guy who drives the caged golf cart at the driving range. He currently lives in Athens, Georgia.
Mario Alejandro Ariza covers federal courts for the South Florida Sun Sentinel. He is a Dominican immigrant to the United States, and the author of Disposable City: Miami's future on the Shores of Climate Catastrophe, forthcoming from Bold Type Books in summer 2020. Mario holds an MFA in poetry from the University of Miami and a Master's degree in Hispanic Cultural Studies from Columbia University. His poetry, journalism, and non-fiction writing can be found in places like BOAAT, The Atlantic, and The Believer.