Beyond the Model Minority: A Review of Each of Us Killers by Jenny Bhatt
By Namrata Verghese
Jenny Bhatt, Each of Us Killers, 7.13 Books, 2020. $18.99
---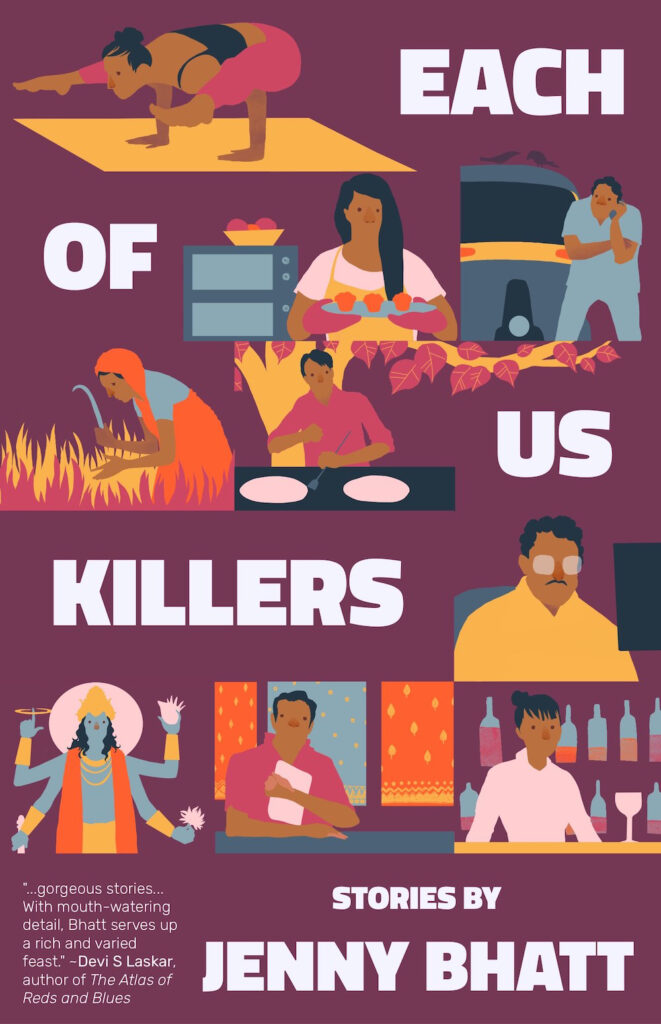 "N," my creative writing professor said. He called me N because he couldn't, or wouldn't, say my name. "You have to stop copying Jhumpa Lahiri." (He pronounced it Joompa Lay-harry.)
He handed me back the story I'd submitted for our first fiction workshop. His comments ranged from "too niche" to "not authentic." He had underlined words like kurta and verandah, branded them with angry red-ink question marks.
"Copying Jhumpa Lahiri?" (I forced myself to also pronounce it Joompa Lay-harry.)
"You know. All these Indian stories."
*
I think, often, about the term "model minority." Popularized by Ronald Reagan in 1984, the model minority myth paints Asians, including South Asians, as the ideal assimilationist immigrants: passive, apolitical, educated, wealthy, quiet. We are, in Homi Bhabha's words, "not quite, not white." The myth not only dilutes the multiplicity of our identities, but functions as a tool of white supremacy, harnessed to pit us against other people of color, and, in doing so, uphold violent white hegemony.
In the literary world, the "model minority" paradigm takes on an even more fraught valence. The project of white supremacy demands that books written by non-white authors are ornamented with marketing tags like "diverse," "exotic," or, my favorite, "authentic." In conjunction with the systemic industry barriers that writers of color face, this curated othering leads to the pedestalization of authors like Lahiri as the singular voice of far-flung diasporas. If you've read one book by an Indian writer, publishers seem to think, you've read them all. Meanwhile, white authors get the luxury of nuance, of multiplicity—of humanity, in all its mess and excess.
Jenny Bhatt, author of the 2020 short fiction collection Each of Us Killers, vocally condemns this flattening of Indian writing. As she once wrote on Twitter: "If the only Indian women writers you know are Arundhati Roy and Jhumpa Lahiri, that's because they won big awards. Please read beyond awards hype." Through her podcast, Desi Books, Bhatt pokes holes in the branding of "Indian writing" as a monolithic category of prestige fiction by championing a wide array of South Asian authors. It is fitting, then, that Bhatt's debut speaks to the capaciousness of our stories. Each of Us Killers, a collection of fifteen short stories bound by the theme of work, serves up a cross-section of lives across India and the diaspora. It is, in a word, polyphonous.
Bhatt's style is visceral and, at times, daring. She defies the pervasive writers' workshop advice that each story must be between eight and fifteen pages, with a demarcated beginning, middle, and end. Each of Us Killers brims with flash fiction pieces, just a page or two in length, punctuating the longer works in the collection with clean staccato notes. Bhatt delights in playing with the expectations imposed on her as an "Indian writer"— in leaning into and thus subverting the very tropes that we are cautioned to avoid (for fear of workshop comments like "too niche" or "not authentic"). The story "Mango Season," for instance, bursts open with the lines, "The Alphonso is the king of all mangoes. And the mango is the king of all fruits." It then goes on to revel in loud, vital images of mangoes, monsoons, saris, Bollywood, and regional food. (Pro tip: don't read this collection while hungry. After descriptions like "a large onion uttapam with spicy steaming sambhar, ice-cold sugarcane juice, and a crunchy paan to finish," you'll put the book down and go fridge-foraging).
Bhatt's expansive cast of characters further destabilizes the model minority myth. The thread tethering these stories together is work—or, perhaps more aptly, labor. "Most important, these days, is to know a person's job or line of business," one-character comments in "The Prize." Moving beyond the static archetype of the Indian engineer or doctor, Bhatt aims her spotlight at a yoga instructor, a rickshaw driver, a financial-analyst-turned-baker. The chains of capitalism spare no one; in the tongue-in-cheek piece "Separation Notice," even the almighty Hindu deity Lord Vishnu finds himself at loose ends when he receives an employment termination letter informing him that, "After a thoroughly detailed global disaster trends analysis, management has decided that your position, Supreme Peace-loving Preserver and Guardian of Life and Protector of the Cosmic Order, will be entirely eliminated."
Each story offers its own incisive commentary on capitalism and the long shadow it casts over our professional, personal, and interior lives. Two pieces in particular—"Neeru's New World" and "The Prize"—illuminate the extreme measures we are willing to take to protect our jobs, and, by extension, our worlds. "Twelve Short Tales of Women at Work," a story rendered particularly timely in the wake of #MeToo, tracks women across varied workplace, from blue to white-collar settings. Each micro story is tethered to the next by the mundane violence the women encounter. In one, an HR Manager advises trainees to "dress modestly; don't be alone with men in conference rooms; keep your head down and work hard." In another, a man says, "It's not that we don't want to hire women. We just have to be careful to hire the type that won't distract the men."
Stripped of artifice, Bhatt's luminous, exacting prose peels back the prosaic horrors of modern life. "Isms"—from casteism to racism to sexism to ageism—are not merely sprinkled on characters' heads like seasoning, but fundamentally baked into the way they navigate their worlds. In "Disappointment," a woman watches her boyfriend laugh when his father says, "Doesn't she look just like the Indian girl from Bend It Like Beckham?" This veiled racism undergirds the collection and manifests in darker ways, as well. Bhatt's opening story, "Return to India," interrogates a software engineer's murder. His corpse becomes a public text. The dead man's former co-worker comments on his appearance with salivating fetishism— "thick black hair, lush cocoa skin, plum-colored lips"—while simultaneously praising how "articulate" his ex-wife was. His boss notes that he was passed over for a promotion because he declined too many social invitations and needed to "loosen up." His killer defends himself, saying he fired his gun because he was scared for his life: "All 'em Middle Eastern men are always killin' each other at the slightest thing." When informed that the man he murdered was from India, the killer says, "Same part of the world, ain't it? They're all the same anyhow." Life in a marked body, Bhatt suggests, is inherently precarious, transforming an otherwise dull workplace into a space of perpetual, uneasy negotiation.
Arundhati Roy once articulated a central concern of South Asian postcolonial writing: "How to tell a shattered story?" Bhatt responds: by refusing the Western mandate to produce facile, legible narratives of South Asia. By embracing shatter, by leaning into fracture and fragmentation and impossibility. This collection's fragmentation operates on a macro scale, with the inclusion of flash pieces alongside longer stories, and on a micro scale. When describing his lover, for instance, one story's narrator ruptures pages of dense prose to lapse into free verse: "Kay: sheathed in long russet silk moiré / perfumed with jasmine ittar / landlocked by bearded German academics." A postcolonial subjectivity, Bhatt indicates, is necessarily splintered—flung across borders, caught between competing histories, trapped in a liminal space structured by the interlocking institutions of capitalism, colonialism, and white supremacy. Bhatt's triumph, then, is resistance. At its core, Each of Us Killers is a book about desire. Bhatt's characters hunger for professional fulfillment, for a different world, and for each other. Their desire is resistance: in the face of hegemonic violence, in a world predicated on their erasure, Bhatt's characters choose life.
"Craft," Matthew Salesses writes, "is the history of which kind of stories have typically held power—and for whom—so it also is the history of which stories have typically been omitted." Crackling with political charge, as lush as the Alphonso mango itself, Each of Us Killers is an urgent intervention in a whitewashed literary landscape that has too often effaced that stories like Bhatt's. I wish I could hand this book to my eighteen-year-old self, disoriented and embarrassed after her first fiction workshop. I wish I could tell her to read it, then pick up her own pen. Because we are more than the model minority. We are a presence, not an absence. We have more than one story to tell. And yes, we do change the world with stories—both the ones we tell, and the ones we don't. In cracking open space for more stories, new stories, and different stories, Each of Us Killers is both a prayer and a promise.
---
Namrata Verghese is a writer and academic. Currently, she's a graduate student at Stanford, working on a JD and PhD in Modern Thought and Literature. Her work has appeared in Catapult, Tin House, The Los Angeles Review of Books, and elsewhere. Read more or say hi at namrataverghese.com.
Jenny Bhatt is a writer, literary translator, book critic, and host of the Desi Books podcast. She teaches creative writing at Writing Workshops Dallas. Find her at https://jennybhattwriter.com.