An Interview with Jehanne Dubrow
---
By: Janola Sauther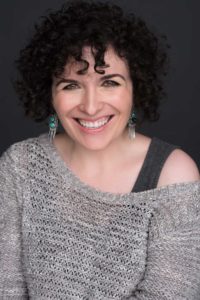 Jehanne Dubrow has written numerous books of poetry, including The Arranged Marriage, Red Army Red, and Stateside. Dubrow's most recent collection of poetry, Dots and Dashes, received the Crab Orchard Series in Poetry Open Competition Award. Her seventh poetry book, American Samizdat, was one of the winners of the Diode Editions Book Contest and will be published later this year. Another work to look forward to in 2019 is throughsmoke: an essay in notes, Dubrow's first book of creative nonfiction, which will be published by New Rivers Press. Her poetry, creative nonfiction, book reviews have appeared in the Southern Review, New York Times Magazine, Hudson Review, and Pleiades, among others. She is also an associate professor at the University of North Texas.
JS: Some of your poems from Dots & Dashes, such as "Achilles"and "Reading Sappho in Pensacola," reference ancient Greek poetry. Are there any specific poets or poems from ancient Greece you would consider influential to your poetic style? 
JD: I did my undergraduate studies at St. John's College in Annapolis, Maryland, which is often referred to as "the Great Books school." So, the classics have always been an important part of my reading life: Homer, Ovid, Plato, Euripedes, Aeschylus. These writers haven't so much affected my poetic style as they have influenced my vocabulary of references, the stories that I allude to, the metaphors that speak to my own experiences, the mythological figures who walk through my poems.
JS: In "Five Poetry Readings," you describe different audiences you have presented your poetry before. Do your experiences reading your poetry aloud before an audience change how you write poems, knowing your words will need to work both in performance and on the page?
JD: This is such a good question! When I'm drafting–whether it's poetry or prose–I always read my writing out loud. For me, there's very little difference between the performance of a poem and the silent reading of the text, because I always want the language to be musical, delicious in the mouth. When I was a child, I thought I would be either an actress, a visual artist, or a writer. The theater was my first love of the three, and I came to language through plays, understanding early on that good dialogue has a rhythm, a compelling sound, a texture and length that work in harmony with the actor's breath, that delight but don't make the tongue stumble. When I'm writing a poem, I always know something has gone wrong when I fumble with a line or get tangled in the music of the sentence. And when I read my poems in public, I treat them like dramatic monologues, intimate conversations with the audience; I try to read in a way that feels natural, real, and genuine.
JS: In "At the Reading of the Antiwar Poets, 2007," you address political issues such as protest. Do you approach poetry differently when talking about politics compared to other topics?
JD: My strategy for writing political poems is always to ask myself: What part does the speaker play in all of this? How is she implicated? The trick is to make sure that the speaker isn't claiming to be superior to her subject of critique (the poem shouldn't be a screed). In this way, a political poem isn't that much different from a love poem, for example. The most effective arguments–whether we're talking about the agora or the bedroom–aren't those in which the speaker simply says, I'm extraordinarily right, and you couldn't be more wrong.It's better to begin from a place where the speaker wonders: How did I contribute to this wrongness? How wide is the distance between us?
JS: Many of your poems, such as "What We Talk about When We Talk about Deployment" and "Casualty Notification," discuss life as a military dependent, a world which many civilian audience members may be unfamiliar with. What do you want your readers to learn from these poems?
JD: There's a vast body of literature that explores what it means to be a soldier, what it's like to participate in war. But, until recently, there have been very few poems, works of fiction, or works of creative nonfiction about the experience of being a military spouse. Literature shows us that certain stories matter, that certain narratives are worthy of artistic exploration. I want my "milspouse" poems to do some of this work for the lives of military spouses. In the 21st century, what is it like to wait for a someone in the military to return stateside? What is the relationship between physical and emotional distance? How might both the soldier and the spouse be equally (although differently) transformed by their contacts with war?
JS: You mentioned on your website that your first work of creative fiction, throughsmoke: an essay in notes, will be published by  New Rivers Press this year. What inspired you to expand your repertoire into creative fiction? 
JD: I began working on throughsmoke almost five years ago, but I've written creative nonfiction much longer than that. I think there's very little difference between writing a poem and writing a lyric essay. Both genres think intensely about form, both can move elliptically, and both pay rigorous attention to language. throughsmokeis comprised of hundreds of paragraph-sized essays, many of which could be mistaken for prose poems. This was probably my way of cheating; I figured out how to write a book of nonfiction by using techniques I'd learned from writing poems! Now I'm writing a new collection of essays, Exhibition, a Self-Portrait,and feel comfortable enough working on a manuscript of prose that I'm drafting longer pieces, lots of braided essays or essays that merge research with personal experience. It's really easy to become tired of reading one's own voice on the page. The antidote is play, formal experimentation, and the willingness to get things wrong.
---
Janola Sauther is an undergraduate student in the English program at the University of Central Missouri.