"Alba Rosa" by Samira Negrouche, Translated by Marilyn Hacker
Alba Rosa, originally published as a letterpress chapbook by Color Gang in 2019, includes artwork by Yves Olry. You can purchase a copy of the chapbook here. Yves Olry, who recently passed away, was also the cover artist for Marilyn Hacker's translation of The Olive Trees' Jazz and Other Poems by Samira Negrouche (purchase here from Pleiades Press). We would like to honor the life of Yves Olry by sharing "Alba Rosa," and some images of the chapbook's artwork and letterpress process, as well as a video of Samira Negrouche reading the poem.
---
Tu n'as pas abandonné la maison
c'est la maison qui t'a abandonné

ton pays
les bâtisses de ton enfance
ton village
ce bleu particulier
aux dernières heures du printemps
la terre de tes ancêtres
si tu t'en souviens
les cailloux placés là
qu'on replace
sans trop savoir pourquoi
et qui apaisent
qui rassurent nos regards pressés

cet arbre solitaire
au sommet de la colline
que tu n'as pas foulé de tes pieds




*




Tu n'as pas marché
sur la colline de ton enfance

cette ombre minérale
aux courbes volatiles
au sommet nébuleux
est le centre de ton centre
l'axe qui trace la voie
de midi
midi baigné de soleil
dont l'aiguille
trace le Nord

c'est sur les sentiers
arides
où tu es seul à perdre la trace
où tu retardes la rencontre
où tu contournes l'espace
que tu attends




*



Tu n'as pas murmuré
de verbes inavouables
à l'oreille frémissante

cette chanson
accidentelle
que seul le désir
éveille
est restée plantée
dans ta gorge

il arrive
que dans la moiteur
d'un horizon semblable
tes pulpes
deviennent pourpres
de la chanson
qui s'éveille




*




Tu n'as pas rangé
les photos de famille
sur un dossier numérique
en prévision d'un déménagement

les photos fanent
comme fanent les roses
mais ne reviennent pas
à la saison suivante

tu penses à ces visages
dilués dans ta mémoire
à ces rues
qui portent un autre nom
à ces glycines
d'un temps perdu
qui tapissent tes narines
à celle que tu planteras peut-être
pour rassembler
tes yeux




*



Tu n'as pas repeint
les volets de la cuisine

que de matins perchés
à regarder l'ombre lointaine !
La colline si proche
si familière
si confidente
si confiante

il y a des géographies
qui nous fondent
qui nous habitent
sans que nous en prenions
la mesure

les volets s'émiettent
à présent
sans que personne ne pense
à les rafraichir




*



Tu n'as pas regardé ta mère
au fond des pupilles
tu ne l'as pas humée
une dernière fois

qui donc s'attarde
sur la courbe de la mère
en traversant
les rapides ?




*



Tu reproduis des gestes
que tu remarquais à peine
sur les mains dociles
tu reproduis des silences
remplis de présences
que les gestes
n'emplissent pas
tu reproduis
ce qui ne se fixe pas




*




Ton corps n'a pas fini
d'habiter l'espace
d'éprouver les sentiers
aux heures
les plus sombres

ton chant n'a pas fini
d'habiter ces creux
gorgés d'attente
d'envahir le thorax
de ce souffle familier

la parole
est entre tes doigts
c'est dans ton corps
que tout parle
dans ton coude ta poitrine
dans ton sein plissé
dans ton ventre mou
c'est dans ta chair
que renait la voix




*




Tu as habité le sol
sous tes orteils

nul ne prévoit
quand commence le voyage
quand il est temps de quitter
la colline
de cheminer
vers la montagne des autres

nul ne prévoit
où se dessinent les lignes
qui te séparent
de la géographie des autres
de leurs ombres

tu as habité
de tout ton être
la ligne
à traverser




*




Sous tes doigts
les pierres reprennent vie

toi seul reconnais
les cercles blancs
que tracent les pèlerins
du déplacement

toi seul sais
la foi unique
la langue muette
que seuls les déplacés
entendent

sous tes doigts
les pierres parlent
elles disent les saisons
qui verdissent
et accablent
avec les vents contraires




*




Quand on cherche
c'est avec les mains
qu'on observe
avec le corps ouvert
abandonné
à la montagne

c'est dans le mouvement
que s'enracine
la mémoire
dans le mouvement
que s'habite la courbe

ta maison abandonne
qui l'abandonne
s'émiette sur qui veut
rouiller son souffle

ta maison c'est là où tu transportes
ton enfance




*




C'est dans l'aube
d'une rive sauvage
que tu as planté
quelques lettres
sur une ligne enfouie
que tu as vu
des destins basculer
abandonnés
sur des flancs jumeaux

C'est dans l'aube
d'un chant accidentel
que tu as figé ton doute
que tu as retrouvé
le seuil
le toucher juste
la mémoire suffisante
pour entendre ta voix.
You didn't leave home
your home left you

your country
the buildings of your childhood
your village
that special blue
of the last hours of spring
land of your ancestors
if you remembered those
pebbles placed just so
and put back
without quite knowing why
that assuage
that reassure our hurried glances

that solitary tree
on a hilltop
where you never set foot




*




You didn't walk
on the hill of your childhood

that mineral shadow
its ephemeral curves
its nebulous summit
is your center's center
axis marking the passage
of noon
sun-soaked noon
whose needle
points North

it's on these arid
paths
where you lose your way alone
where you delay the encounter
where you circumvent space
that you wait




*



You didn't murmur
unmentionable words
to a trembling ear

that accidental
song only
desire awakened
stayed rooted
in your throat


sometimes
in the damp of
a similar horizon
your pulp
turns purple
with the awakening
song




*




You didn't arrange
the family photos
in a digital folder
to prepare for moving

the photos fade
as roses wilt
but won't be back
next season

you think of those faces
diluted in your memory
of those streets
that now have different names
of that long ago
wisteria
carpeting your nostrils
of the one perhaps you'll plant
to summon back
your eyes




*



You didn't repaint
the kitchen shutters

how many mornings perched there
to stare at the distant shadow !
The hill so close
so familiar
so confiding
so confident

there are geographies
that create us
that inhabit us
without our ever knowing
quite how much

the blue on the shutters
flakes off now
but no one thinks
of repainting them




*



You didn't look at your mother
from the depths of your eyes
you didn't breathe her scent in
one last time

but who pauses
at the mother-curve
crossing
the rapids?




*



You copy gestures
that you barely noticed
on docile hands
you imitate silences
once full of presence
that your gestures
don't refill
you repeat
what can't be fixed in place




*




Your body continues
to inhabit space
testing its paths
during the darkest
hours

your song continues
to live in those hollows
swollen with waiting
to sweep through the thorax
with that familiar breath

the word
is between your fingers
in your body
everything is speaking
in your elbow your chest
your wrinkled breast
your slack belly
it's in your flesh
that the voice is reborn




*




You inhabited the ground
under your toes

no one foresees
when the journey will begin
when it's time to leave
the hill
make your way
toward their mountain, the others

no one foresees
where the lines will be drawn
that separate you
from the others' geography
from their shadows

you inhabited
with all your being
the line
to be crossed




*




Under your fingers
stones come to life again

you alone recognize
the white circles
traced by the pilgrims
of displacement

you alone know
the single faith
the mute language
that only the displaced
understand

under your fingers
stones speak
they tell the seasons
greening
and overwhelmed
with contrary winds




*




Whoever searches
observes
with his hands
with the body open
and abandoned
on the mountain

it's in movement
that memory
takes root
in movement
that the curve is at home

your house abandons
whoever abandoned it
crumbles on whoever
would rust its breath

your house is wherever you carry
your childhood




*




It was in the dawn
of some wild shore
that you planted
a few letters
along a buried line
where you saw
lives topple
abandoned
on twin flanks

it was in the dawn
of an accidental song
that you found
the threshold again
the right touch
the necessary memory
to hear your own voice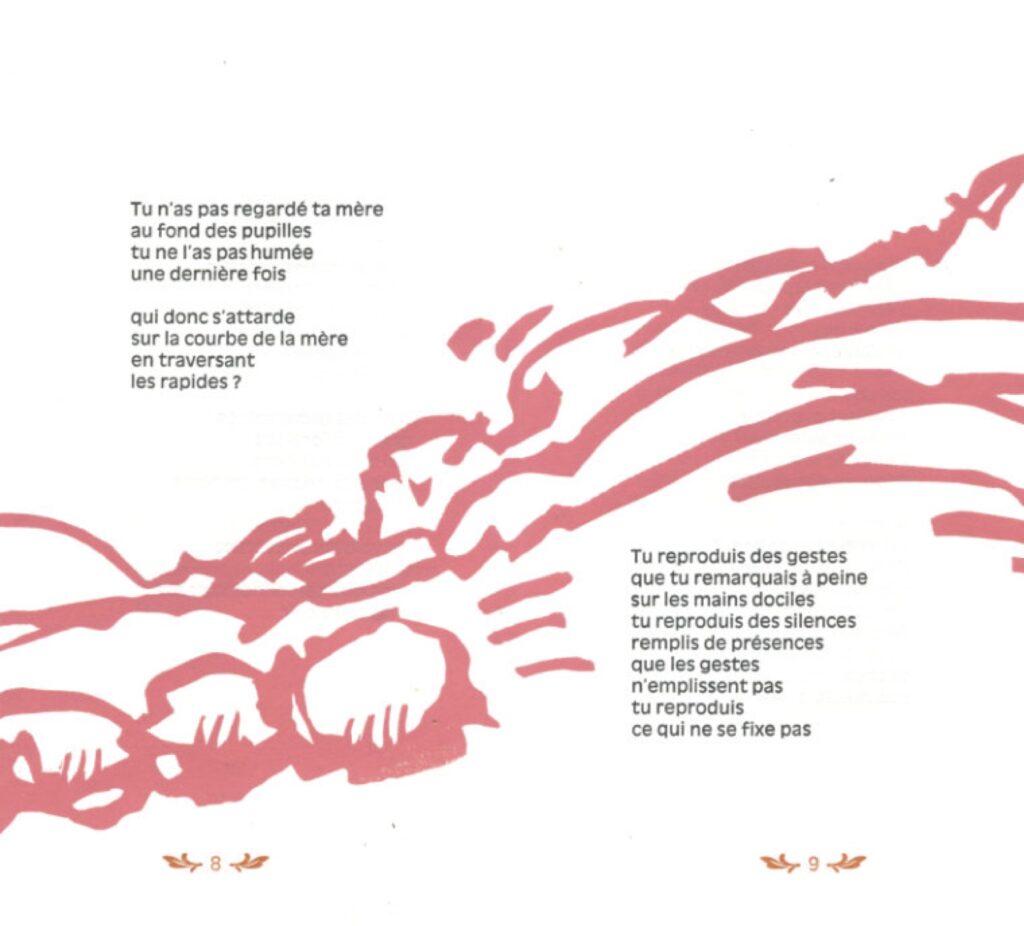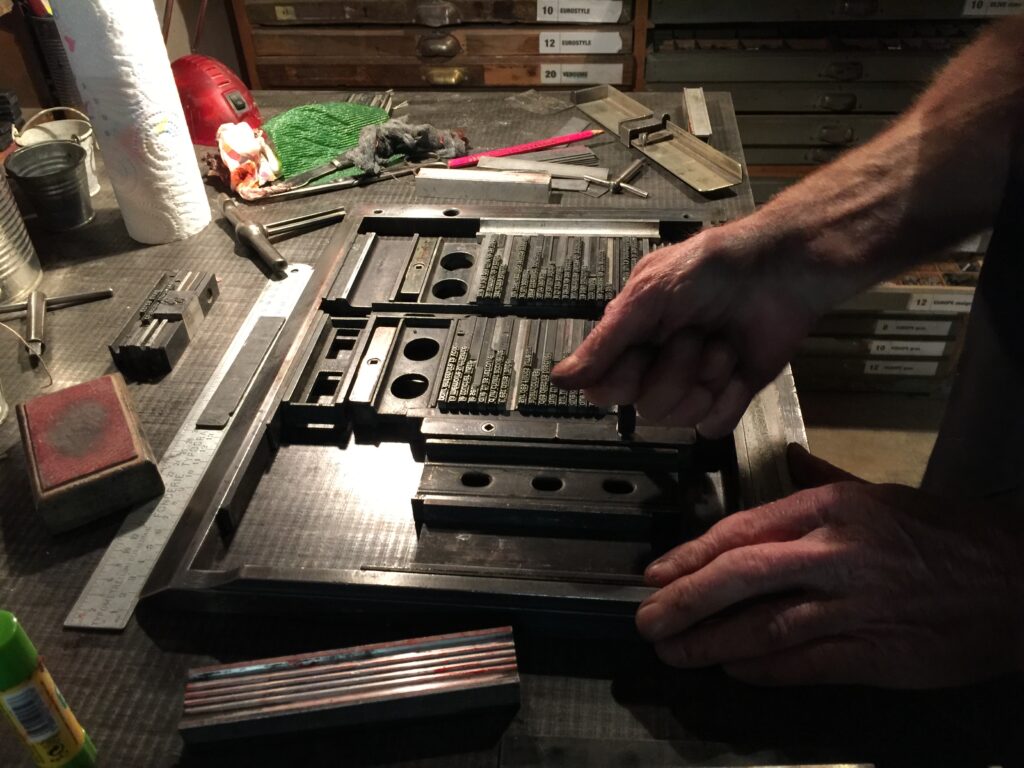 ---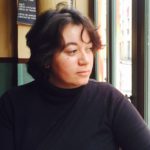 Born in Algiers where she still lives, Samira Negrouche is a poet and translator, as well as a doctor who has privileged her literary craft over the practice of medicine. Prone to multidisciplinary projects, she has frequently collaborated with visual artists, choreographers, and musicians. She is the author of several books and artists' books, mainly published in Algeria and France. Her poetry has been translated into over twenty languages, including Spanish, Italian, and Bulgarian. Her books include: : À l'ombre de Grenade (2003), Le Jazz des oliviers (2010) Six arbres de fortune autour de ma baignoire (2017) and Quai 2/1, partition à trois axes (2019).
ABOUT THE TRANSLATOR

Marilyn Hacker is the author of fourteen books of poems, including Blazons (Carcanet 2019), and A Stranger's Mirror (Norton, 2015), and an essay collection, Unauthorized Voices ( Michigan, 2010). Other translations of French and Francophone poets include Vénus Khoury-Ghata's A Handful of Blue Earth (Liverpool, 2017) and Emmanuel Moses' Preludes and Fugues (Oberlin, 2016). She received the 2010 PEN Voelcker Award and the international Argana Prize for Poetry from the Beit as-Sh'ir/ House of Poetry in Morocco in 2011. She lives in Paris.