3-Minute Book Review – Emily Webber on Megan Hunter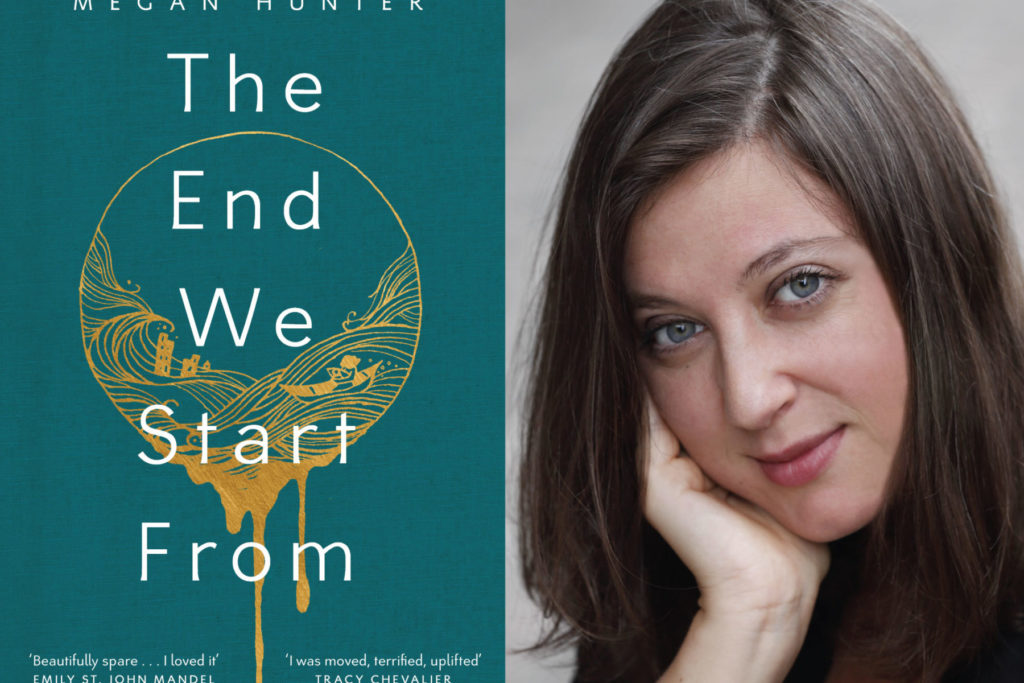 Three-Minute Book Review – Emily Webber on The End We Start From, by Megan Hunter (Grove Press, November 2017)
–
What snack should you have while reading this book?
Clams, mussels, a scallop (only one and only if you are very lucky), jellyfish, octopus, and tiny sand crabs in a murky broth, seasoned with seaweed (not the exotic kind, but the washed up on a dirty shore kind). The first slurp will taste as salty and dirty and complex as the ocean. A reminder that the water may eventually take what we've made ours, but it will still nourish those that survive.
I am eating lime jelly with the boy in the crook of my arm when I hear.
His hands circle in tiny, victorious fists. I feel that I could, all things considered, conquer the world.
The news on the hour, 14thJune, one o'clock. Tina Murphy reporting. An unprecedented flood. London. Uninhabitable. A list of boroughs, like the shipping forecast, their names suddenly as perfect and tender as the names of children. Ours.
If you planted this book in the ground, what would grow?
This book would grow a Strangler Fig Tree from the watery ground, wrapping its maze of roots around the trunks of other trees and gathering strength from what is still left. Not bothered by a little water and agile enough to stay around long enough to witness the starting over.
Everyone has their theory, their own scratched-out map that helps them into the long days nowhere.

For H it will be over soon, for O we are here forever.

As for me, I see R in a vessel on the ocean, and then I don't.

It's a mirage, an illusion, a piece of dirt over my cornea.

I blow on Z's belly and he curls his toes. I like the way his fingers stick to me when I carry him, like a bath lizard.
Is this book papyrus, typewriter, desktop computer, or iPad?
None of the above. It is a mother's words whispered in the ear of her son, telling stories full of lies but meant to bring comfort. It is the screams of a panicked mob and belongings riddled with the faces of ghosts. It is a spark of hope that comes from watching a baby learn to walk.
Too many, R says. Too Little.

Pandemonium, N tries, syllables spilling onto the table.

G is nowhere, and the kitchen is full of her, her face shining out from the kettle, the shape of her waist wrapped around jars. 
–
Emily Webber was born and raised in South Florida where she currently lives with her husband and son. Her writing has appeared in The Writermagazine, Five Points, Maudlin House, Fourth & Sycamore, and Brevity. She's the author of a chapbook of flash fiction, Macerated, from Paper Nautilus Press. To read more by her, visit https://emilyannwebber.wordpress.com/.