Featured Poem: "Comfort Women of WWII" by Maija Rhee Devine
Maija Rhee Devine
Comfort Women of WWII
O, freedom from teeth, from looking like a doll. Hair? Until it grows white like green onion roots, sweethearts' vows except Japanese "lovers" charged with swords, their war pants ballooned at thighs, ripped our undies, black night or moon.
Hair? Crisp straw. Lips, moist at seventeen, now You leather strips, quinoa-grain voice, erased lyric. Pants ballooned, "lovers" pistoned us, eclipse or moon. Am I lying?
Leather lips, frog-voices, erased lyric. lying The entrance to a grave welcomes me. Did I get rich? Kings took slave women to their graves; I shall shed my men.
The entrance to my grave, grave. whore!1 Their boots stomped, swords clanged, seaweed dark or dawn. O, freedom from teeth, coy lips. Emperors took their women to eternity; I shall shed my men.
1. The voices of Japanese conservatives slung at Korean "comfort women" visiting Japan on their trips to present testimonies of their lives as "comfort women" of WWII.  
---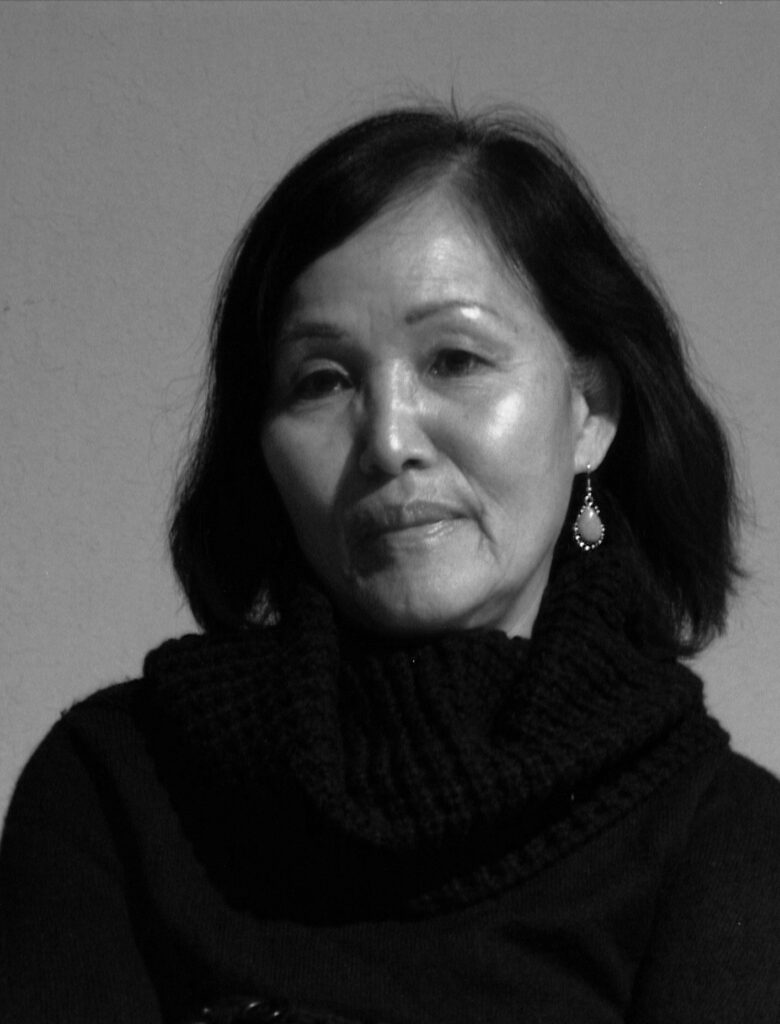 Maija Rhee Devine's autobiographical novel about surviving patriarchy in Korea, The Voices of Heaven, won four awards. Her TEDx Talk showing the book's relevance to today's South Korean society is at: http://youtu.be/GFD-6JFLF5A. Her Master's is in English Literature from St. Louis University, Missouri. Her prose and poems have appeared in The Kenyon Review, North American Review, her chapbook, Long Walks on Short Days, and anthologies. Her full-volume poetry manuscript, Comfort Women: Freedom From Teeth, made a semi-finalist in the 2019 Crab Orchard Literary Journal contest. The lead poem of the same title was published in Pleiades, June, 2020. Her COVID-19 poems will be published in an anthology, When the Virus Came Calling: COVID-19 Strikes America, (Golden Foothills Pres, CA, September 2020). Her nonfiction and fiction works-in-progress deal with 'comfort women' of WWII.
A lecturer at the Continuum College, University of Washington, she gives talks on topics including, Comfort Women of World War II; The Korean War; How Belief in Yin/Yang/Chinese Zodiac Signs Affects Women; Philosophies & Religions of East Asia; and Life through Poetry Within 30 Miles of the DMZ, which President Bill Clinton called 'the scariest place on earth." Her stories as a child survivor of the Korean War, an immigrant life in the U.S., and her writing are in Abraham Lincoln Presidential Library and Museum's Oral History archive: https://www2.illinois.gov/alplm/museum/blog/Pages/blog110.aspx
Her website: www.MaijaRheeDevine.com