CONGRATULATIONS to Saúl Hernández, WINNER of the Prufer Poetry Prize!
---
Pleiades: Literature in Context is thrilled to announce that Joy Priest has selected "This Is How I Fight" by Saúl Hernández of San Antonio, TX, as the winner of this year's Prufer Poetry Prize. Saúl Hernández will receive an award of $1000 and his winning poem will be published in the Fall 2023 issue of Pleiades.
Of the winning poem, Joy Priest writes:
"The intelligence of this poem lies in its mosaic of feeling. A succession of memory fragments trail me through the poem like broken pieces of a thrown vase. Personal and historical violence is brought together in a complex pattern where a kiss that begins these histories can end in fire. However, the triumph of the poem is in how the speaker's intrepid survival reverses time: via this "thread" of lonely violence, the speaker "watched the end become a beginning"—a beginning of their own making."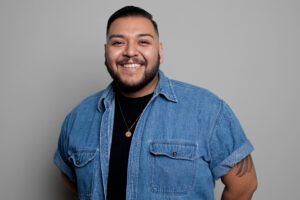 Saúl Hernández is a queer writer from San Antonio, TX who was raised by undocumented parents. Saúl has an MFA in Creative Writing from The University of Texas at El Paso. He's the winner of the 2021 Two Sylvias Press Chapbook Prize chosen by Victoria Chang. His poems have been nominated for a Pushcart Prize and Best of The Net. Saúl's work is forthcoming /featured in Frontier Poetry, Poet Lore, Foglifter Journal, Oyster River Pages, Cherry Tree, and elsewhere.
---
The editors would also like to recognize the finalists for this year's Prufer Poetry Prize:
Linette Marie Allen
Starr Davis
Ayling Dominguez
Viola Lee
Annaka Saari
Mark Spero
Kelly Weber
Cat Wei
Ariel Yisrael